Dental implants are a popular and effective way to replace missing teeth. They are an excellent long-term option for restoring your smile.
A dental implant is an artificial tooth root that's placed into your jaw to hold a prosthetic tooth or bridge. Dental implants are made up of titanium and other materials that are compatible with the human body.
Dental implants may be an option for people who have lost one or more teeth due to periodontal disease, an injury, or some other reason and who prefer not to wear dentures.
Are You a Candidate for Dental Implants?
You're an ideal candidate for a dental implant if:
• You're in good general and oral health.
• You have adequate width and height of bone in your jaw to support the implant.
• You have healthy gum tissues that are free of periodontal disease.
Types of Dental Implant Procedures
Depending on your specific condition, we will create a treatment plan tailored to meet your needs.
Here are some of the possible treatment plans depending on your situation:
• Single Tooth Dental Implants – If you're missing a single tooth, one dental implant can replace it.
• Multiple Tooth Dental Implants – If you're missing several teeth, they can be replaced by multiple dental implants.
• Full Mouth Dental Implants – If you're missing all of your teeth, they can be replaced by full mouth dental implants.
• Sinus Augmentation – A key to implant success is the quantity and quality of the bone where the implant is to be placed. The upper back jaw has traditionally been one of the most difficult areas to successfully place dental implants due to insufficient bone quantity and quality and the close proximity to the sinus. Sinus augmentation can help correct this problem by raising the sinus floor and developing bone for the placement of dental implants.
• Ridge Modification – Deformities in the upper or lower jaw can leave you with and inadequate amount of bone in which to place dental implants. To correct the problem, the gum is lifted away from the ridge to expose the void where bone is missing. The void is then filled with bone or bone substitute to build up the ridge. Ridge modification has been shown to greatly improve the jaw's appearance and increase the chances of successful implants.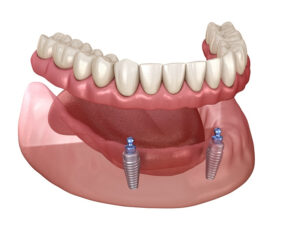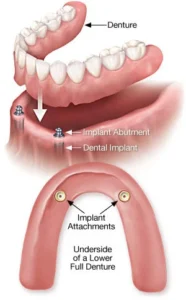 Implants have the ability to replace missing teeth, bringing your mouth back to full function. Whether implants are used to secure removable dentures or hold a dental crown or  bridge to replace several missing teeth, they have changed the lives of patients. Your Comfort, appearance, chewing capability and confidence can all be tremendously enhanced!
SINGLE DENTAL IMPLANT
Implants can replace a missing tooth to restore the mouth to optimal function and prevent further dental complications from arising. If you have one or more missing teeth, contact us about our dental implant treatment options.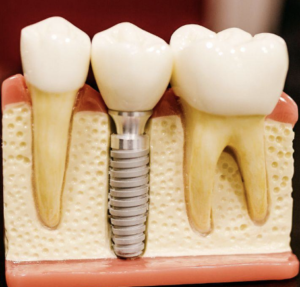 FIXED HYBRID DENTURES
Implants can also be used to replace all missing teeth. If you are missing all of your teeth, our fixed hybrid dentures may be the perfect treatment option for you. The screw-retained dentures with dental implants improve your smile and overall function.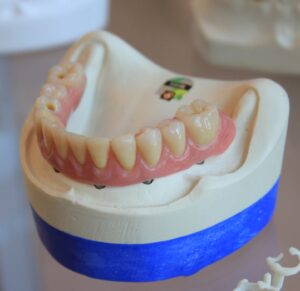 LOCATOR RETAINED OVERDENTURE
A locator retained overdenture is another option for those who need to replace all missing teeth. The overdenture provides the stability of dental implants and the convenience of a removable denture.